*Please be aware that the interview process described in this video has changed slightly. While the contents of this video are still useful, the flow of the interview process is a bit different. Please read "The Interview" section below to find out about the current interview process.
Key Qualifications and What We Look For:
Native English speaker
Bachelor's degree (or higher)
Engaging, enthusiastic, and motivated to go the extra mile to provide a positive communicative experience for students
Flexible, culturally sensitive, and eager to live in Japan for a minimum of one year
Previous teaching experience ranging from ALT to ESL tutoring within Japan or in other countries
Must have at least a basic level of Japanese with a conversational level being strongly preferred
Previous time spent studying or working in Japan is preferred
As many ALT positions do require driving, applicants who can or would be able to drive in Japan on either a Japanese license or International Driving Permit are preferred
When to Apply
There are two main starting dates for our ALT positions - April and September. April is by far the biggest intake of new recruits, as this is when the Japanese school year begins. September, the beginning of the 2nd semester, is also a common starting time and our second biggest recruiting season. ALTIA CENTRAL also hires 1 or 2 new ALTs during other months throughout the year, but these are relatively rare situations when we need to suddenly replace an ALT who has had to unfortunately leave their contract mid-year for personal reasons.
While we are continually accepting applications from those currently located in Japan, below you can see the best times for our overseas applicants to apply.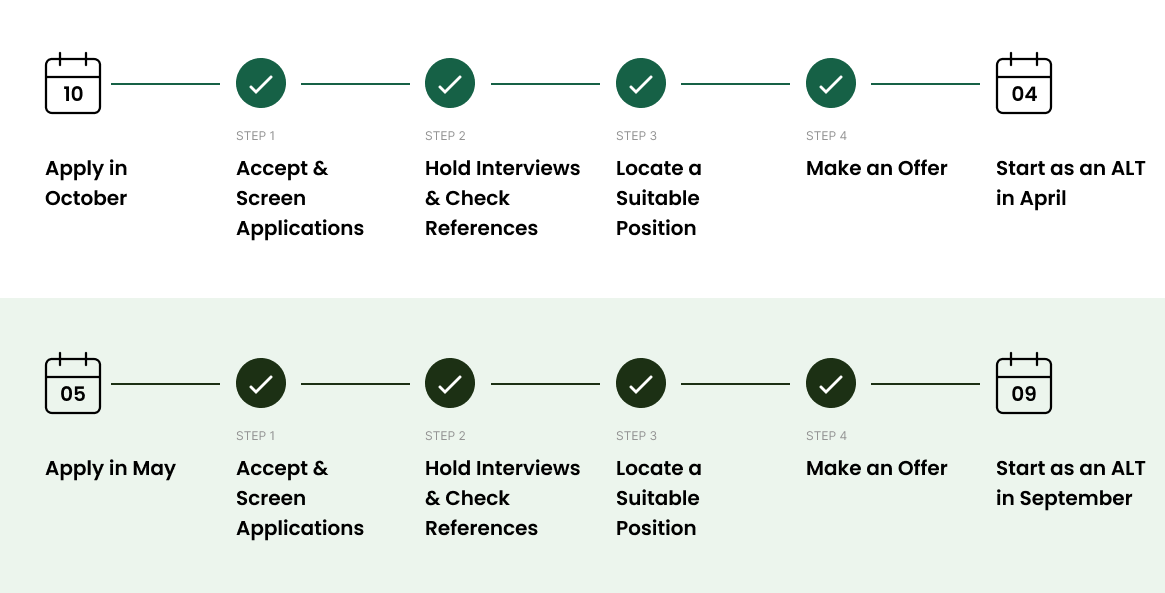 The Interview
In the past, there were several different ways in which ALTIA CENTRAL conducted interviews. Typically, we conducted in-person interviews and would travel to several major cities both in Japan and overseas to meet applicants face-to-face. Not surprisingly, the coronavirus pandemic has since caused us to shift to a remote interview system for your safety and ours. While we do not currently allow in-person interviews or phone interviews, we do hope to resume in-person interviews in the future.
We will organize and confirm your interview date and time via email. Interviews are about 45 minutes to 1 hour long and are all conducted using Google Meet. We try to make our interviews comfortable and friendly, but we do ask that you dress and act professionally.
After your initial interview, we may request a little more documentation as well as send you an email with an additional form and instructions on how to prepare a Demo Lesson Video. From there, we'll ask to arrange a 2nd interview where we will continue our previous conversation, confirm the information you provided for your references, and you'll also have a chance to speak with one of our Japanese colleagues for a few minutes.

Post-Interview
You've just finished your interview with ALTIA CENTRAL, now what happens? Bearing in mind that it can be some time from interview to start date, how does ALTIA CENTRAL stay in touch?
For successful applicants, the Recruiting Department will be in contact with you often in order to hash out all the details to find a suitable position for you. We kindly ask that you be as patient as possible with us, as the 6 to 8 weeks before the main starting dates (ie. February - April and July - August especially) can be very hectic for us. But rest assured, we will do everything we can to keep in contact with you as much as possible and welcome any questions you may have.
Approval
After successfully completing all the steps of our interview process, the Recruiting Manager will hopefully be able to officially approve your application. It's a fairly rigorous process, but getting to this point means that we believe you have what it takes to work as an ALT with ALTIA CENTRAL and we are eager to try to find a spot for you with us.
Approval though does not guarantee being hired, as there are still some other hurdles to clear first. We'll have to find out how many of our current ALTs are leaving, we'll have to earn or re-earn the various contracts with the Boards of Education (BOEs) to ensure we actually have positions to fill, and we have to sort all of our approved applicants to make sure we have enough suitable spots for everyone. Approval is a massive step forward, and the majority of people who make it this far do ultimately end up with jobs with us, but it's not quite a guarantee or a set position just yet.
The Official Offer
After approval is completed, position openings are confirmed, and we find a suitable placement for you, we will send out Official Offer emails to all successful candidates as early as possible, but of course, this will be the accumulation of several weeks of back-and-forth communications between you and us to check and confirm all preferences, needs, specific details etc.
Once you get an Official Offer, the choice will be up to you to accept it or turn it down. The offer will detail all the conditions of the position and you will of course have a chance to ask any questions or confirm any details at this stage. After accepting the offer and finalizing your placement, you will be officially introduced to the Administrative, Supervisor, and Training Department. You will then begin to hear from our Training Department regarding the initial Orientation/Training dates and venues as well as pre-O/T online training. You will also hear from your new Supervisor and our Administrative Department to introduce themselves and start discussing things like documentation etc. within a few days of your acceptance. We try to keep the process as personal as possible to make you feel welcome and ensure that you are as comfortable as possible with your decision to work with our company.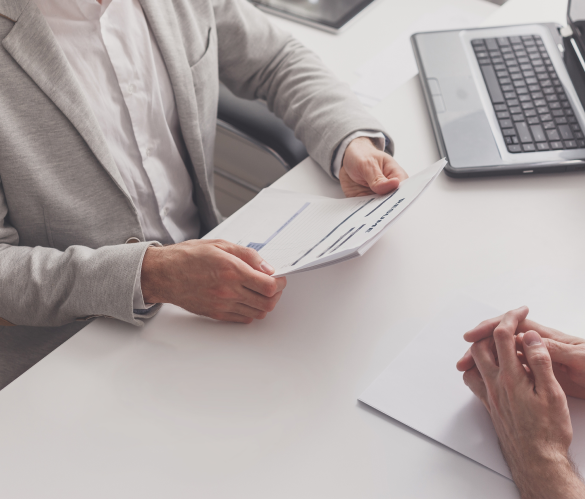 Overseas Recruits
For applicants who have interviewed overseas, there is quite a gap between the interview and the actual placement. Interviews are generally in October, November and December for April start positions, and in May & June for September starting positions. The Certificate of Eligibility (COE) and visa application process takes some time, so unfortunately there is also a lot of waiting. A couple months before your pending arrival, we will be finding out the intentions of our current ALTs and securing Board of Education (BOE) contracts in various areas.
For many overseas applicants, we are extremely confident that we would like to hire you and try to express that to you as soon as possible. We may not be able to narrow down your exact placement just yet, but we will be able to let you know that there will be a suitable position for you somewhere. For others, we may not be 100% sure just yet, but we will certainly try to keep in touch with you in that final couple of months and keep you informed about all the possibilities. If we think we will have a position for you, then we will certainly be as open and honest about it as possible.
For others still, it may be the case that we agree to put you on standby for possible openings and sudden new openings that come up. Though the main hiring seasons are leading up to April and September, we do hire throughout the year so this further highlights the need for flexibility as this really does help us to place you in a position with us. Regardless of whether we can guarantee you a suitable position right away or ask you to be a bit more patient and flexible while we wait to confirm your position, what we can and will do is communicate with you throughout the process as much as possible. Our Recruiting Department will always answer emails in a timely, friendly, and informative manner, so don't hesitate to contact us if you have any questions or concerns.